About Douglass, Inc. -- Douglass, Inc. is a manufacturer's representative agency. We handle sales, training and support for leading manufacturers of construction equipment in the Midwest.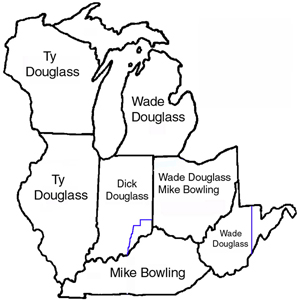 Douglass Territory by salesman
We have four salesmen on the road as well as an inside staff of three. We call on all customer locations, provide literature, specs, prices and technical information; handle sales leads, solve problems and write quotes and orders. We are trained at the factory and report to the sales manager of each company we represent.

We Call On All Rental Locations — We have local salesmen calling in compact territories. Chances are, a Douglass salesman lives a short drive from any location. We will see every location and be sure dealer personnel understand how to use, rent and sell our products.

We Lower Costs — We work several product lines, travel less, and generally work smaller territories than salesmen who handle only one product line. Because of these economies, we are the most cost effective way to sell and support construction equipment. This keeps our costs low, while still providing full-service customer and product support.

We Provide Information — We inform not only about models, performance, specs, price and availability but also about proper use and operation, features and benefits, competitive products, and detailed selling methods. We can hand-deliver, mail, fax, or e-mail this information to customers.

We Respond — We maintain a full time inside staff that is always available to respond quickly to your requests for quotes and other information. You will not have to find a salesman in the field or leave a message when you call Douglass.

We Demonstrate — All our salesmen drive trucks and we tow and show everything we sell. Just let us know what you'd like to see.

We Are Automated — Our field and inside sales operations are fully computerized. Field salesmen travel with laptops. Our technology keeps inside and outside sales on the same page. Better communication makes for faster service.

We Solve Problems — We can help when things do not go smoothly. Let us know if there is a problem or misunderstanding. We have been selling equipment in the Midwest since 1960. When a misunderstanding arises, we will work hard to find a lasting solution for everyone.

We Interface With The Manufacturer — We are the salesforce for the manufacturers we represent. We are in contact with multiple departments of our manufacturers on a daily basis. We use their direct extensions, personal e-mail, cell phone numbers and pagers to get your needs handled. You let us know what you need, it is our job to make it happen.

Our Big Catalog — We send, upon request, a nice two-inch ring binder full of color literature, detailed specs and prices for all our products.